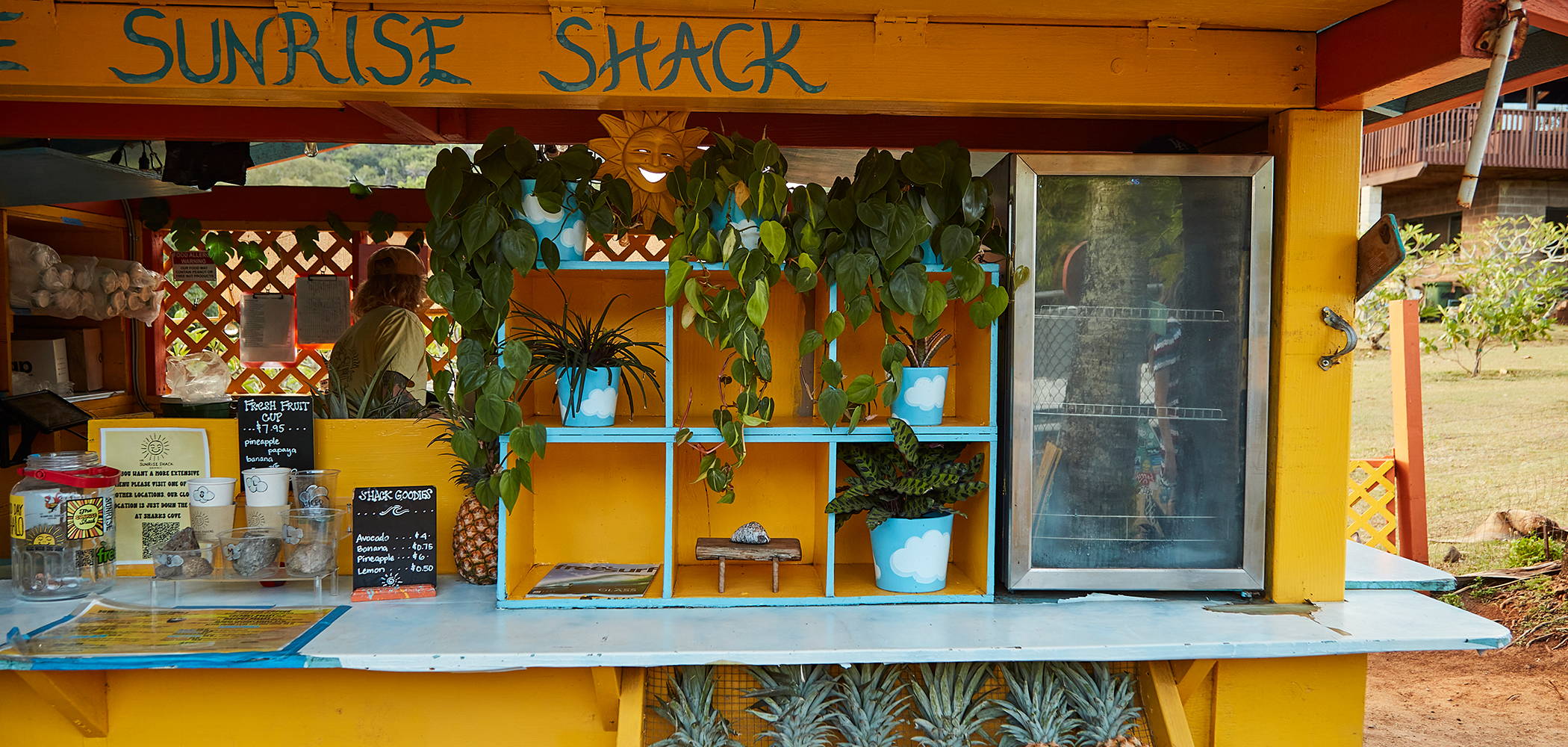 An UPSIDER's guide to Hawaii
Hawaii's top spots, guaranteed to make a joyful trip.
Sunrise Shack
At THE UPSIDE we admire the foundation of the business being centred around friendships and a love for fresh, locally sourced produce. Owned by 3 brothers and their friend, the sunrise shack has grown from its original shack in the North Shore to now 5 locations around Oahu. The predominantly vegetarian and vegan menu features fresh and nutritious smoothies, salads, sandwiches, avocado toast, and more. Perfect for your mid morning pick me up after a swim at the beach or a yoga class at the local community centre.
Pipeline Beach
In the winter, Pipeline Beach, which is well-known for its surfing, is home to some of the world's largest waves. Well worth the journey if only to witness mother nature's overwhelming power.

Haleiwa Town
Haleiwa's charming streets give you the impression that you've travelled back in time to a rural tiny town. This town is a surfer's paradise, and with its small surf shops and family-run businesses, it's a perfect spot to get a feel for the laid-back local way of life while supporting the neighbourhood.

Yoga at community centre
There are many locations to unwind and relax whether it's at Waikiki Community Centre or Still and Moving Centre in Honolulu, through yoga, meditation, or even more playful like, Hula dancing.

Impossible's Pizza Truck
This pizza truck is one of the best in Hawaii and a frequent stop for our Founder Jodhi. Located in Haleiwa, it's one you can't miss! Known for its large slices.

Beet Box
Jodhi's favourite café Beet Box is a vegan and vegetarian café located in Haleiwa & Kailua Hawaii. Providing a comprehensive menu including great juices, smoothies, salads, vegan BLT's and mushroom burgers. A great place to check out especially if you prefer a greener option.

Dole Whip
Looking for something to cool you down? Dole Whip is a popular non-dairy pineapple ice cream. Near Oahu's North Shore, Dole Whip Company, the company that invented the dessert with cult status, operates Dole Plantation.

Waimea Waterfall
Get active and visit one of Hawaii's most beautiful waterfalls. Located on the North Shore a short 30 minute walk through a clearly paved trail with small gentle hills. There are several gravel paths off the main corridor, for more adventurous walkers to explore all our botanical garden collections. At the end of the walk you are rewarded with a breathtaking waterfall to cool off in.

Hike to Diamond Head
If you are looking for something with views, a little more challenging, or just something closer to Honolulu, there is the hike to Diamond Head. This dormant volcano crater is one of Honolulu's major natural landmarks, known for its history, amazing hikes, and stunning coastal views.
INSTAGRAM