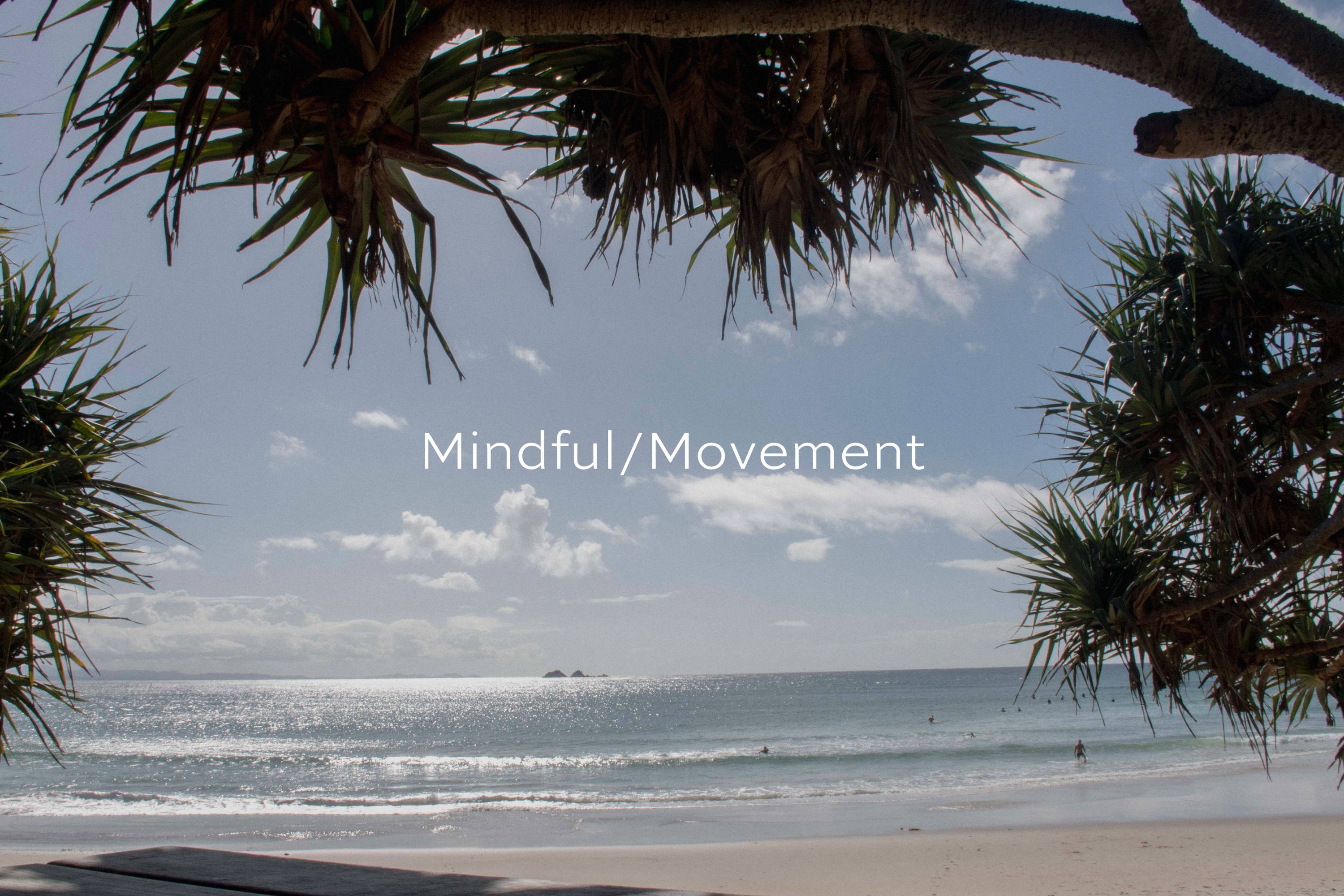 The earth loves us all deeply and gives us everything that we need to experience real and lasting happiness.

It is through every mindful movement and actively engaging with our communities, that we feel more connected to each other, ourselves, and our joy.

THE UPSIDE's mission is to nurture you throughout your journey to wellness, by creating pieces that uplift and enrich the everyday moments that make up your life.

Our responsible business journey is built upon the pillars of Mother Nature and Community - a love letter that holds us accountable to honour, protect and nourish the things that mean the most.

OUR MINDFUL/MOVEMENT MISSION
Founded by Jodhi Meares in 2013, THE UPSIDE is grounded by an authentic love of yoga, spirituality and Mother Nature.

Our evolution has been influenced by our guiding principles of balance and integrity, a code that is layered throughout THE UPSIDE's approach to living, designing and producing.

Mindfulness is central to yogic philosophy and in this same spirit we practise conscious production, from sustainable packaging to the sourcing of ethical manufacturers and the use of recycled textiles.

This love for the great outdoors runs deep and we feel just as passionate about people and their humanity. We are longstanding champions of the LGBTQIA++ community, McGrath Foundation and a portion of every sale is donated to the Cambodian Children's Trust, a non-profit child protection organisation working to better the future of young Cambodian lives. Ideals of self-acceptance and inclusivity pervade our ethos, a stance best illustrated by our social #BEYOU campaign.
We recognise that giving back and being responsible are acts of love for those around us and also to the planet. That's why, as proud member of the Australian Fashion Council TM, we are committed to operating with the highest Environmental and Social Impact standards, and being the most responsible business we can be.

By choosing to shop with us, we are proud that you are on this path too – without you, none of this would be possible.


Mindful/Movement - Protecting and nurturing Mother Nature and Community.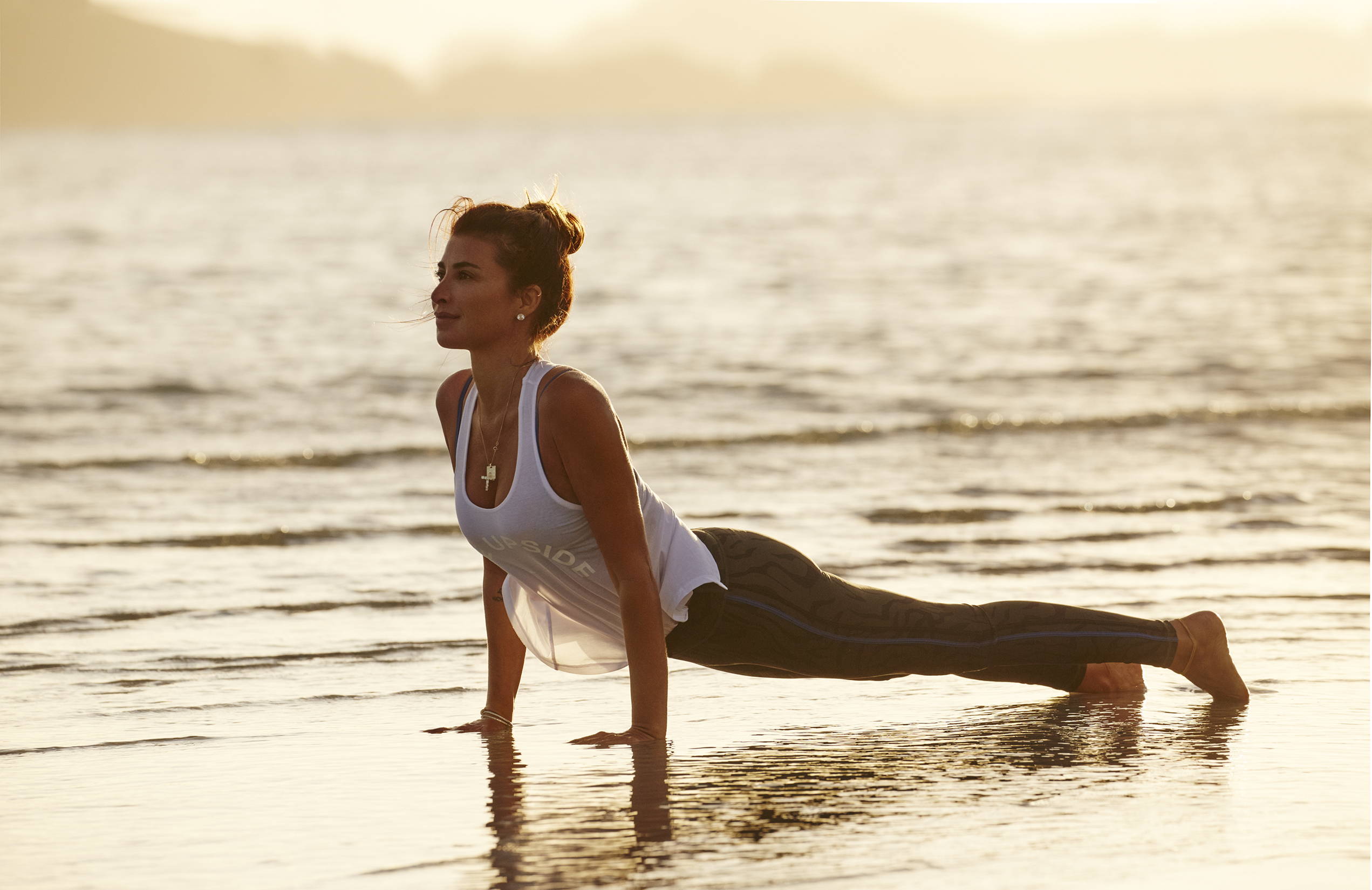 As a responsible brand on a collective impact journey, we have aligned ourselves with the United Nations Sustainable Development Goals to guide us as we improve how we operate.

Each strategic step is aligned with a specific goal and provides us with a unified framework to work toward our key impact areas.

To support and enhance THE UPSIDE's social and environmental platform we have established a Responsible Brand Committee. This committee aids our efforts by influencing, guiding, supporting and, where appropriate, seeking a mandate to ensure we remain focused on achieving our Sustainable Development Goals by being a sustainably focused and community minded organisation.

OUR MINDFUL/MOVEMENT TIMELINE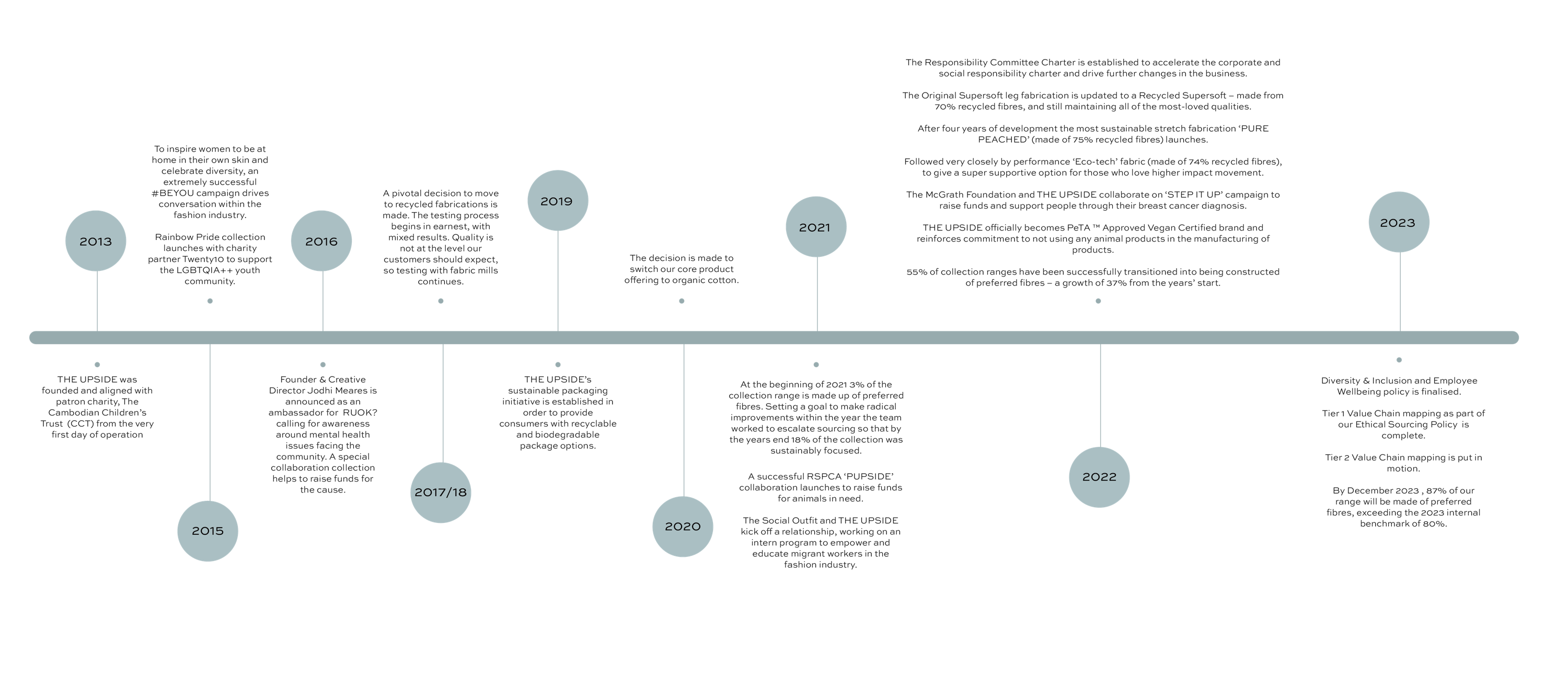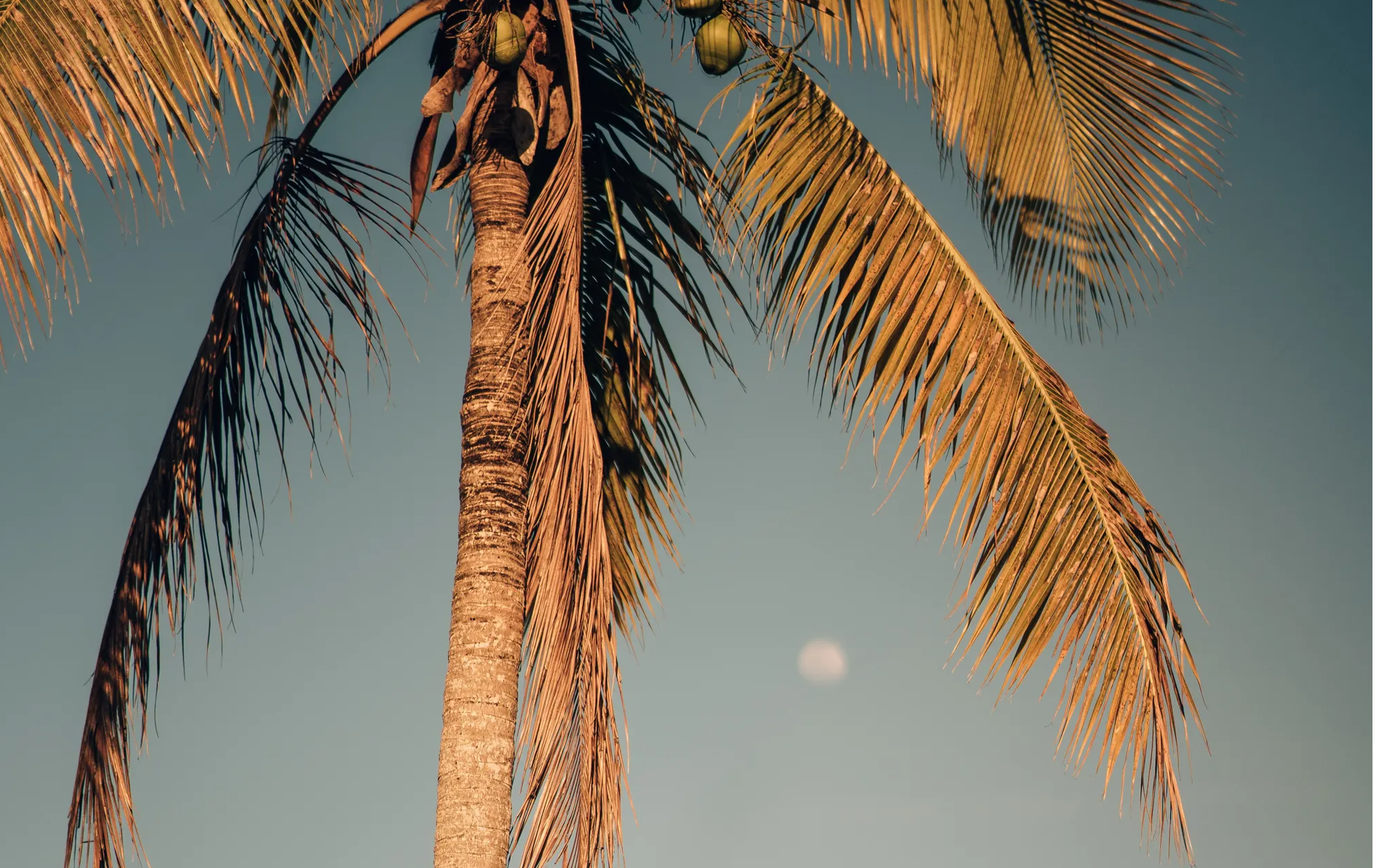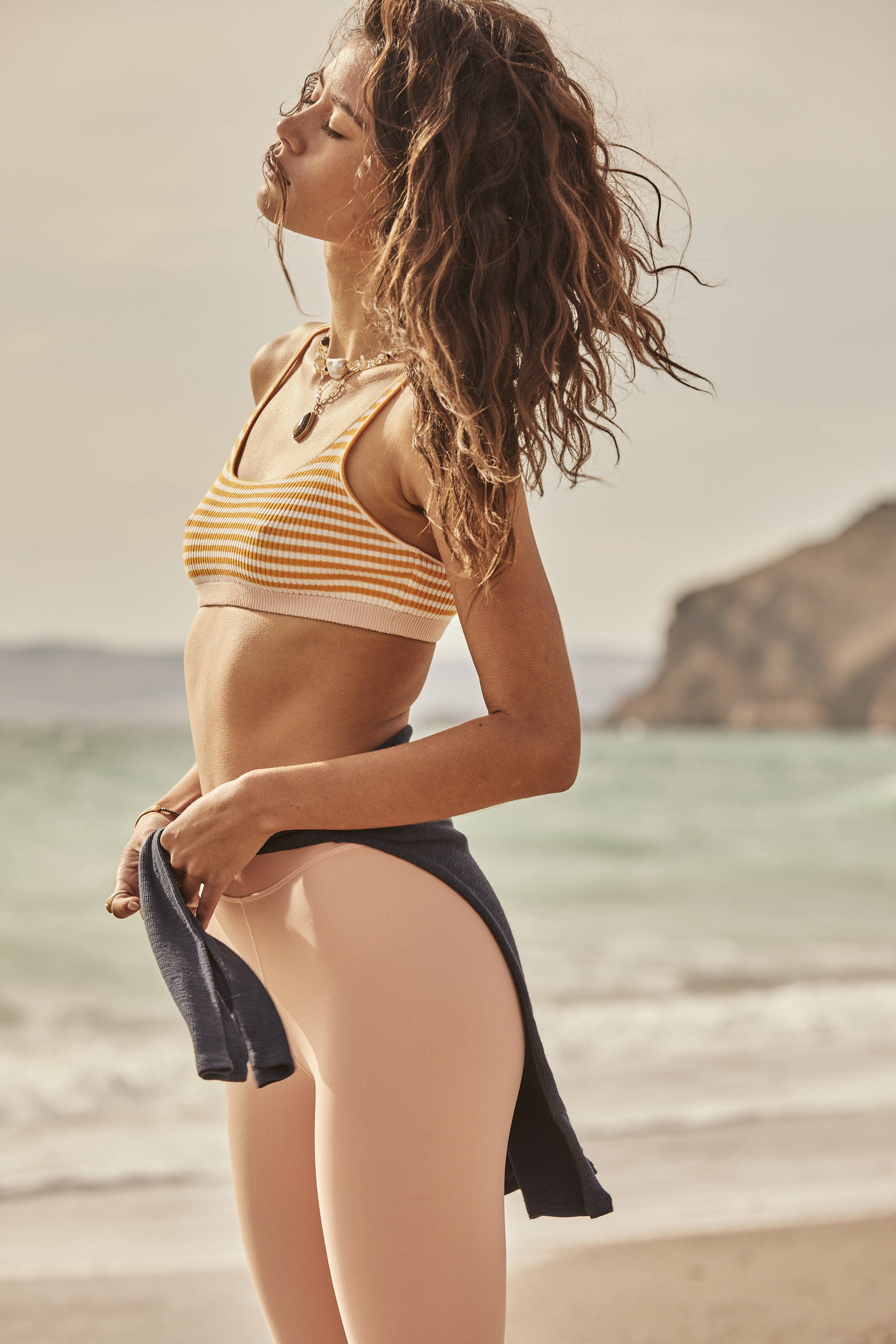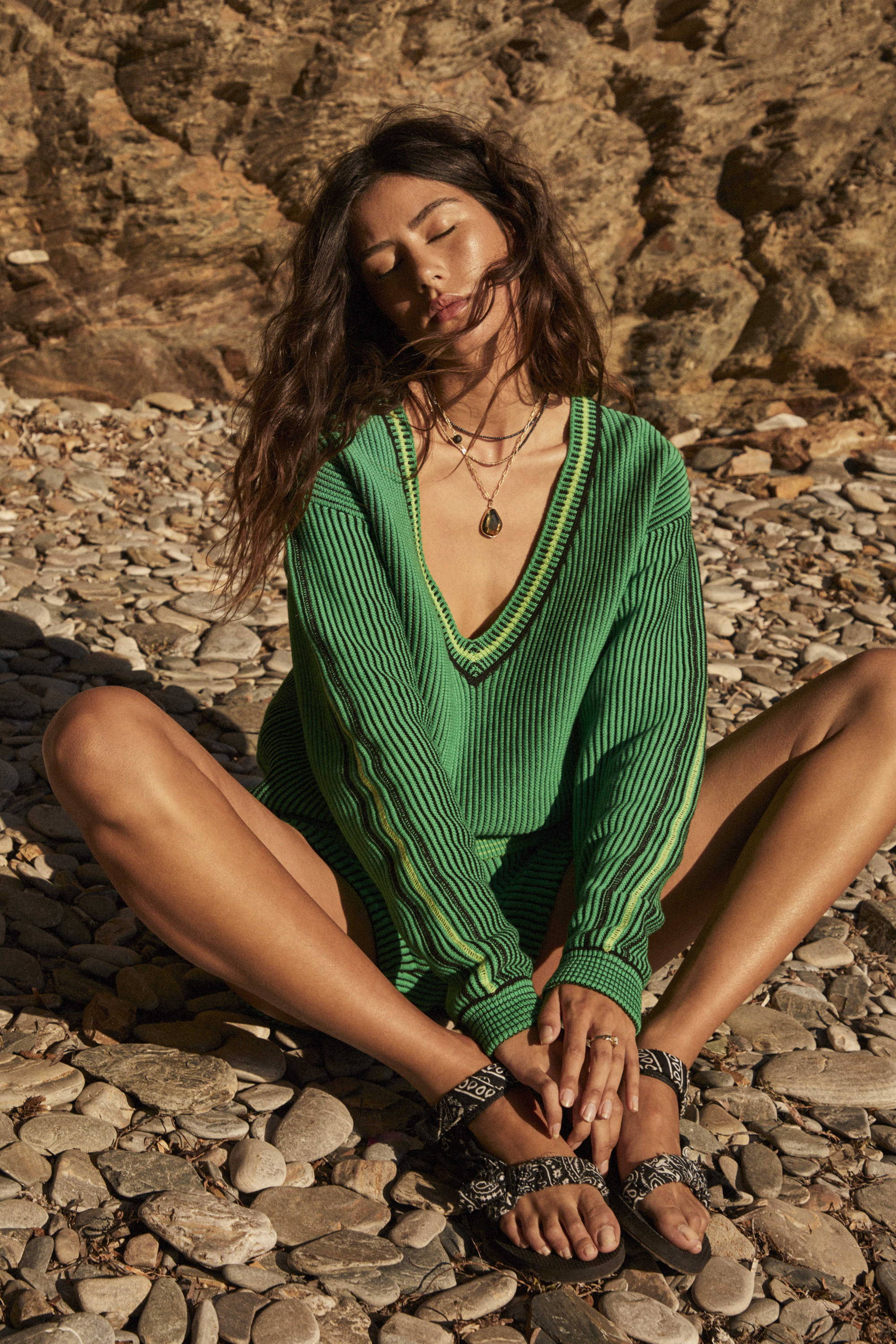 THE HEART OF OUR BUSINESS ~ COMMUNITY
DIVERSITY & INCLUSION

THE UPSIDE believe wholeheartedly in the beauty and power of diversity. You don't need to be more like this and less like that - you just need to BE YOU. This simple message of fierce self-love was once amplified through our #BEYOU social media campaign - an initiative designed to empower our community to accept and own their authentic self no matter what.
As an extension of this belief, THE UPSIDE is committed to developing and maintaining an inclusive workplace and business operation that embraces and celebrates diversity. We acknowledge the positive outcomes that can be achieved through a diverse business and also recognise that in order to have an inclusive workplace and business that discrimination, bullying, harassment, vilification and victimisation cannot and will not be tolerated. Diversity includes, but is not limited to gender, marital or family status, sexual orientation, gender identity, age, disabilities, ethnicity, religious beliefs, socioeconomic or cultural background, perspective and experience.
We also want to take this opportunity to recognise that since we began our operations, we have traded on the land of the Gadigal People of the Eora Nation. As a business we wish to we wish to acknowledge the Traditional Custodians of the land on which we work and gather in and pay respect to Elders - past, present and emerging.
We are privileged to be in our 10th year of operation as a business, many businesses dream of reaching this milestone. We could not have made it to this moment without the people and community around us. From the outset we have chosen to support organisations and charities that want to make a difference to the world, with the hope of creating ripples across many oceans.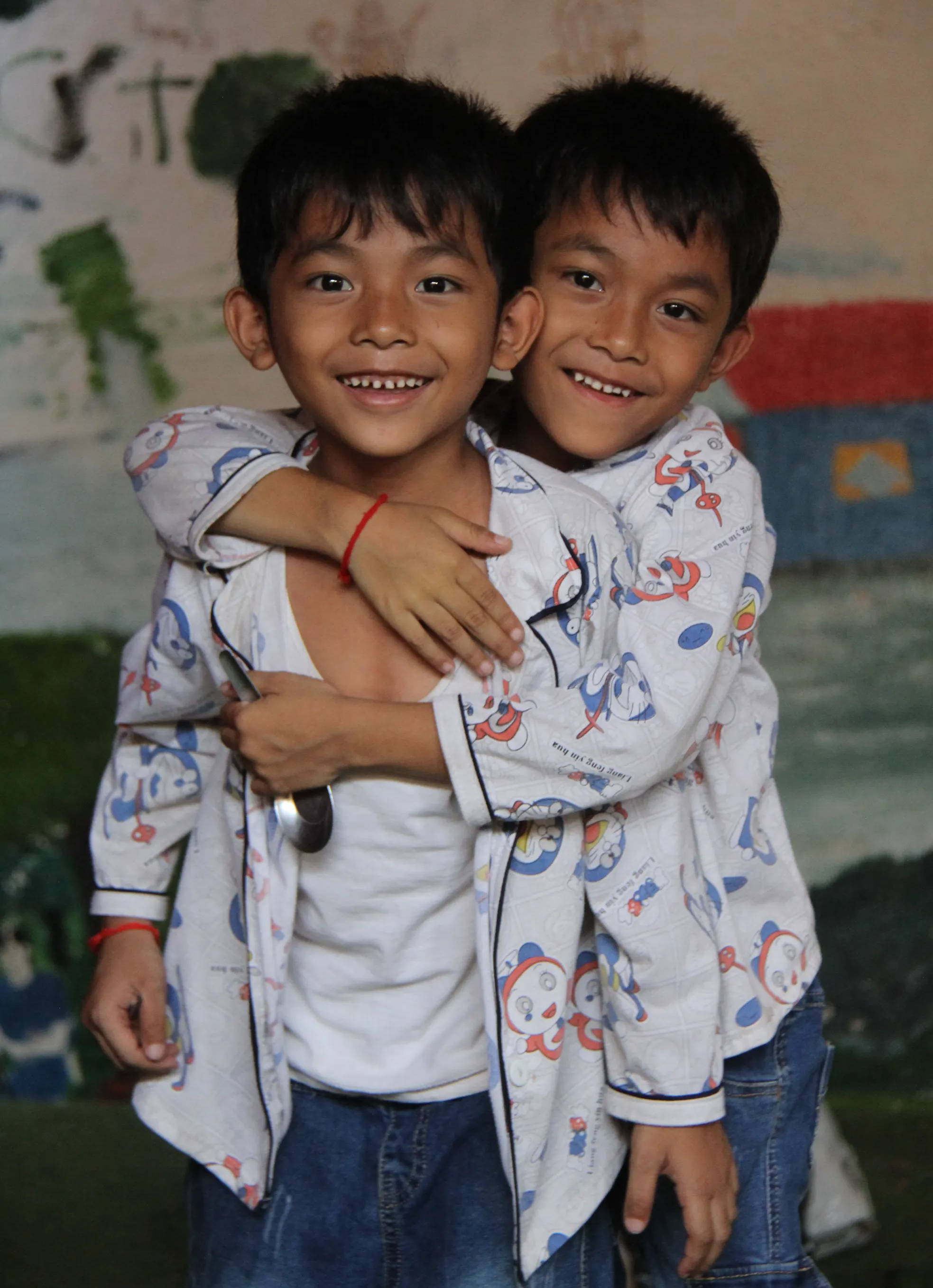 CAMBODIAN CHILDREN'S TRUST
From our very first day of trading right through to the present, we donate $1 of every transaction to Cambodian Children's Trust. Cambodian Children's Trust is a non-profit child protection organisation based in Battambang, Cambodia that draws on a community-led 'Village Hive' model to empower and enable vulnerable families to stay together. Beyond simply protecting them, Cambodian Children's Trust also works to help enable the brightest future possible for these children by providing the necessary support, resources and opportunities to achieve transformational change.
THE SOCIAL OUTFIT

The Social Outfit is an ethical fashion brand and organisation which celebrates creativity and diversity, employing and training people from refugee and new migrant women to kick-start their Australian careers. We've worked with The Social Outfit to give women in their Retail Training Program fashion industry experience and employment training via their industry excursions. This year we hope to work more closely with the team at The Social Outfit to further the assistance we offer as a business so stay tuned for more in this space.
TWENTY10

We are completely in awe of our LGBTIQA++ community. Since early on in our business we have celebrated Sydney Gay and Lesbian Mardi Gras with designated capsule collections, donating the proceeds to Twenty10. Twenty10 is a NSW-based service for lesbian, gay, bisexual, transgender and gender diverse, non-binary, intersex, questioning, queer, asexual and people and others of diverse genders and sexualities, their families and communities. Twenty10 provides a broad range of specialised services for young people 12-25 including housing, mental health, counselling and social support.
MCGRATH FOUNDATION

Following our Creative Director and Founder Jodhi Meares' mother's experience with breast cancer in 2017 and the phenomenal care she received from her very own Breast Care Nurse, THE UPSIDE wanted to be able to give back to people that provide invaluable physical, psychological, and emotional support from the time a diagnosis is received, all the way through to treatment. McGrath Foundation are aiming to raise enough funds by 2025 to be able to fund 250 full time nurses. We aim to partner with McGrath Foundation on a yearly basis to help them achieve their goal, as well as assist in educating around the importance of physical exercise before, during and after cancer treatment.
THREAD TOGETHER

Working to clothe communities in need, Thread Together collects end-of-line brand new stock from fashion retailers around the country. With the support of volunteers, like us, the clothes are sorted in readiness to be distributed to people in need through a national network of charities and social service agencies. Not only does this service help individuals, families and communities in need by restoring dignity, we are also extending the life-cycle of clothing by keeping it in circulation. To continue to support Thread Together, we've made a team commitment to volunteer twice yearly.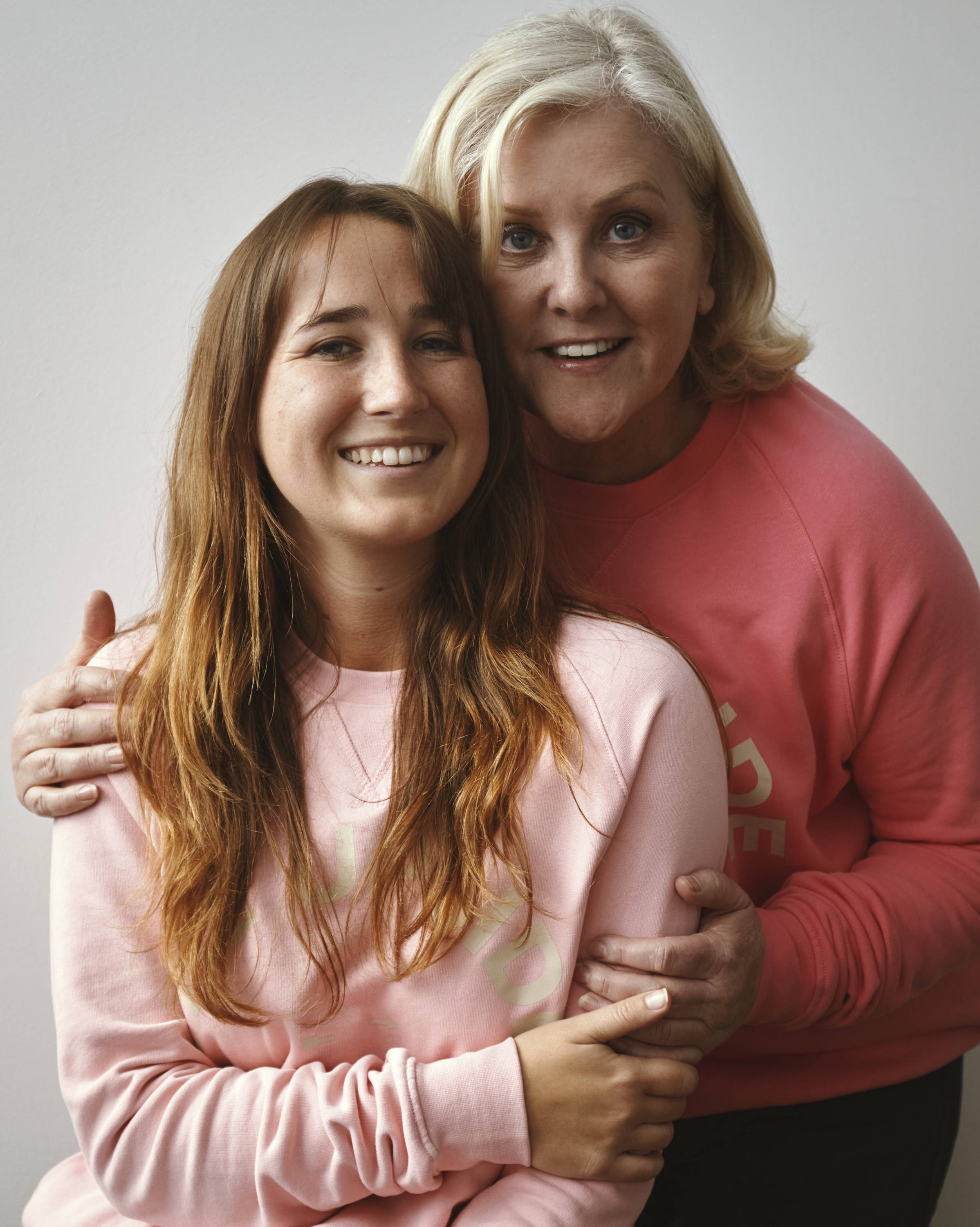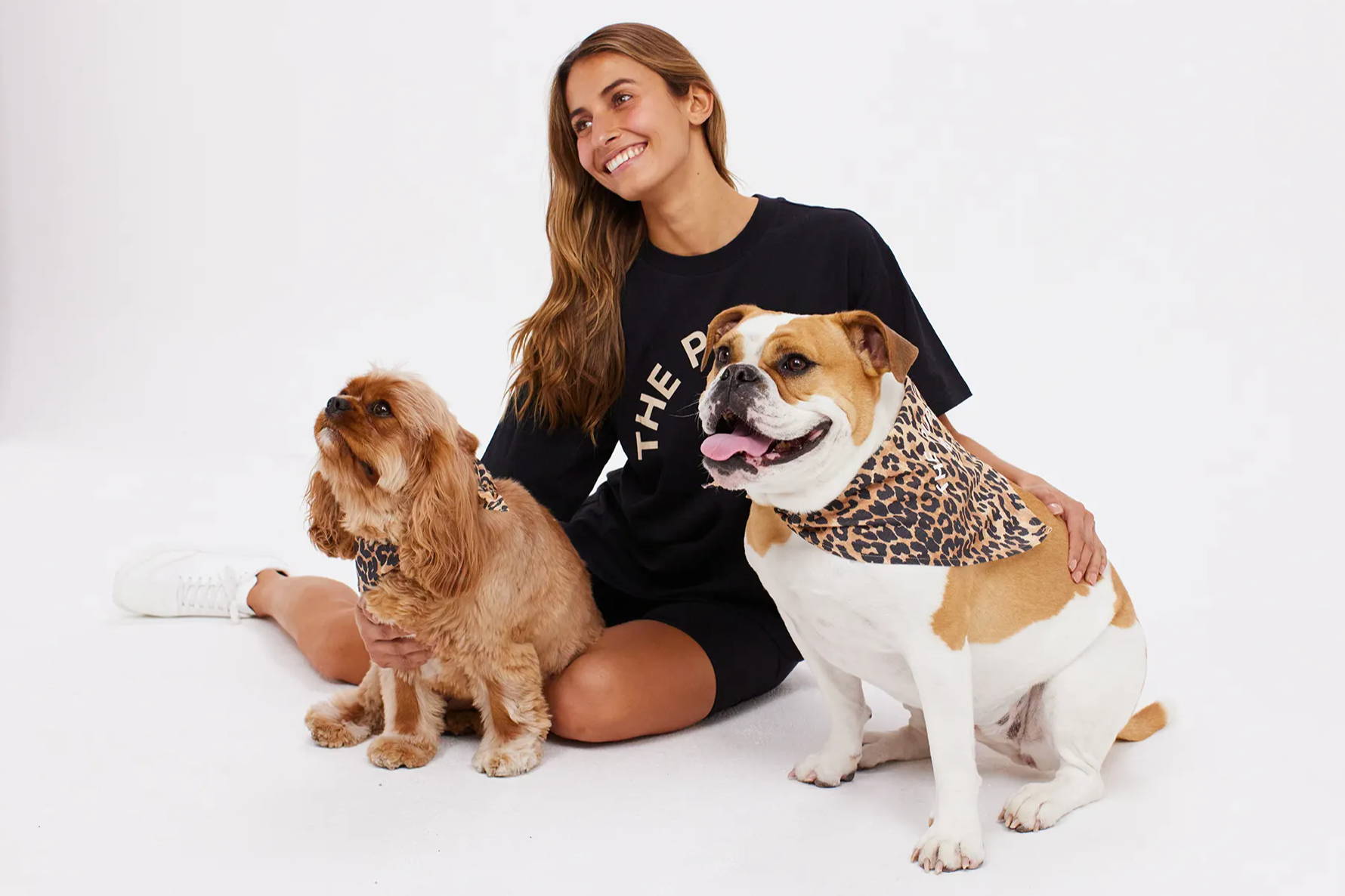 RSPCA NSW

The RSPCA is a phenomenal community-based charity which provides animal care and protection services whose mission is to prevent cruelty to animals and wish to raise more awareness on animal issues. As a business, and very loyal animal lovers, we have continued to raised funds to aid RSPCA on their mission to ensure all animals are treated humanely, as per the five domains framework.
OUR REASON FOR BEING ~ MOTHER NATURE
Our broad commitment is that no animal should suffer for the sake of business. This commitment is made from a place of strong personal belief and is ingrained through the business through the actions of our founder Jodhi Meares. Jodhi's deep love of animals and a long history with the RSPCA has strongly influenced our animal welfare approach, teamed with an already thriving animal friendly office culture, it has resulted in our animal welfare policy becoming a natural extension to our Mindful Movement efforts.
As part of the policy, we recognise it is our responsibility to consider the impact of all our actions on animals and their natural environment. As part of our policy, employees ensure that they actively seek and take part in the monitoring of animal welfare standards through our operations and work to further strengthen our policy over time.
This policy is applicable to employees of THE UPSIDE, as well as any suppliers who are producing THE UPSIDE products, including but not limited to:
Production partners of goods we make available for sale (finished goods suppliers etc)

Production partners of goods not for sale (packaging suppliers etc)

Service based suppliers (Marketing agencies etc)

Partners and stakeholders
We understand the impact THE UPSIDE can have through responsibly managing our practices leading to improvements to animal welfare in supply chains and in the fashion industry as a whole.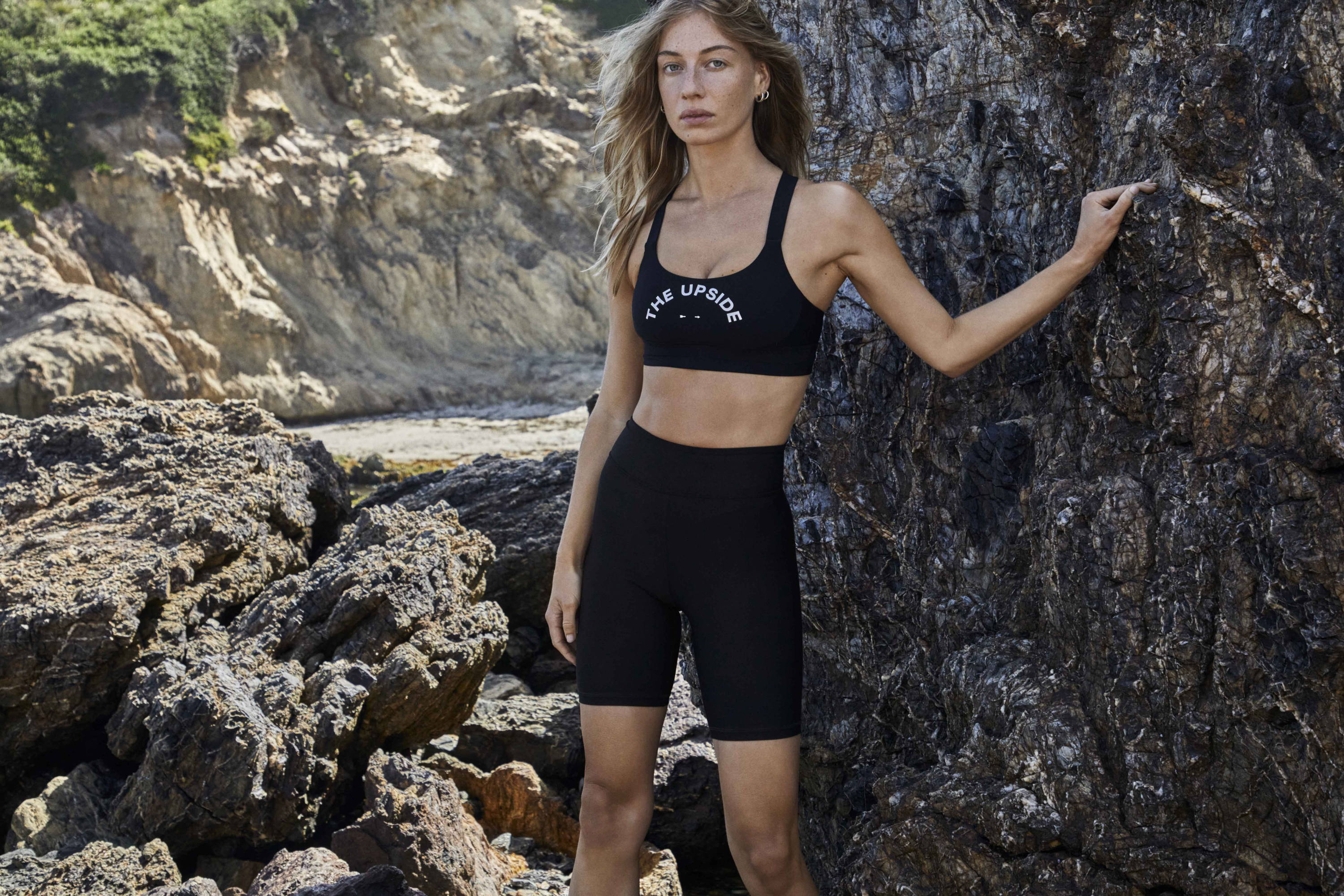 MANUFACTURING AND PROGRESS
THE UPSIDE understands the impact we can have in taking responsibility for management of our sustainability practices to see improvements to animal welfare in supply chains in the fashion industry as a whole.
And so, we are always striving to make each collection better than the last. Currently 70% of our range is made from preferred fibres, including recycled and organic cottons. We have exceeded our internal benchmark of 80% preferred fibres across our range for December 2023, with the range compiled of 87% preferred fibres.
Our designers are always proactively looking for fabrics to add to our ranges, which not only are made-to-last, so that you can feel confident in your purchase and also have minimal impact to the environment during their life cycle.
We are on a journey to ensure the responsible production and processing of our fibre portfolio and are undertaking ongoing work to ensure compliance against industry standards. In addition to this our design and production teams are always looking for new fabrics with certified credentials to add to our fibre portfolio which is our ongoing commitment.
Organic Cotton – Available now

When it comes to 'feel good' factor, organic cotton is the natural choice. Organic cotton is produced without toxic pesticides which make it better for our planet. You can find it in knitwear and throughout THE UPSIDE's jersey and loopback styles. It's perfect to support daily movement choices because of it's breathability and lightweight nature.

--

Synthetic fibres have been a necessity when it comes to the composition of activewear, it's been developed to stretch, bend and support you through the toughest of workouts. We have transitioned into Recycled Polyester materials which are certified by Global Recycled Standard (GRS) and have been tried and tested to met our standards for quality.


Pure Peached - Available now

With 75% recycled fibres from pre-consumer waste our recycled peached fabric is our most sustainable fabric thus far. It has a matte look combined with a buttery hand feel. It's two-way stretch and moisture wicking properties make it the ultimate yoga fabrication that can be worn all day, everyday.

Eco Tech - Available now

Our new eco-tech high performance fabric is made up of 74% recycled polyamide fibres. It is quick drying and moisture wicking with a smooth, silky hand feel and supportive fit for any workout.
Recycled Supersoft - Available now
Our updated Original Supersoft fabric is made from over 70% recycled fibres. It still has the same silky smooth hand-feel and seriously stretchy movement to reach your peak performance.

--
Hemp - Coming soon (October '23)

An office favourite, hemp fibres have been blended with organic cotton for an extra soft jersey in tanks and tee's. Hemp is grown organically without the use of synthetic pesticides or herbicides. It softens with every wear and is a strong, lower impact fibre for the planet.

REPREVE Ⓡ - Coming soon (December '23)

We are excited to welcome a new fabrication into our active repertoire with REPREVE Ⓡ , an 85% recycled polyamide (derived from recycled water bottles found in the ocean) which has much loved performance qualities like moisture wicking, lightweight and breathable. Using recycled instead of virgin polyester produces fewer carbon emissions. Giving plastic bottles a second life keeps also them out of oceans and landfills meaning less pollution. REPREVE Ⓡ yarn has its own traceable fingerprint or DNA, FiberPrint® , meaning the products made with it can be trusted and verified by the supplier and hold a globally recognised standard.
TRIMS AND TAGS

Our recently redesigned swing tags will be reduced to a single fold tag with the information which would normally accessible via a scannable QR code. These are 100% recycled paper. The plastic toggle which attaches the tag to garments will also be replaced to a more environmentally friendly jelly loop.
All our garment tags are 100% recycled cotton and stitched into our garments. We have nearly replaced all of our care labels to 100% recycled polyester, again reducing these to one tab.

DYES AND PRINTS

Where required we use digital printing technology which minimises water usage compared to other printing methods.

CUSTOMER EDUCATION

Upon purchase THE UPSIDE believes it's the business' duty to provide a care guide to customers to help extend the life of their garments to inspire washing and wearing mindfully everyday. Tips to ensure the wearer is getting the best out of the garment include:
• Understandably garments are made to work up a sweat in which means utilising a washing machine for care. GUPPYFRIEND Microfibre wash bags can be purchased for washing of synthetic textiles. These bags collect the microplastics instead of them ending up in our rivers and oceans.

• Reducing the amount of washing by spot cleaning or hanging pieces in the fresh air is an alternative way of caring for garments. The sun's UV rays can kill bacteria and act as a natural cleaning agent. Be mindful of sun bleaching on coloured items.

• Always read the care labels and follow washing instructions, delicate pieces must be given extra love and care.

• Washing on a full load saves on water and electricity, with cool water too!

• Try to avoid using the dryer when you can and hang in the fresh air instead – mother nature will thank you!

• Lay knitwear pieces flat to dry to stop them from stretching out of shape. Folding heavier knitwear pieces in your wardrobe instead of hanging too.

• Keeping wardrobe storage dry and clean to avoid any nasties.

• Remember minor repairs can be fixed with a needle and thread.
ONGOING MANUFACTURING COMMITMENTS
We are committed to ensuring the design, manufacture and distribution of our products and accessories is done with the highest ethical and environmental integrity, in compliance with international and local laws.
As a condition of working with THE UPSIDE, all our manufacturing partners must comply with the standards set out in our Ethical Sourcing Policy, which has been developed according to the foundations of the International Labour Organisations (ILO) and the Ethical Trade Initiative (ETI) Base Code. These requirements represent the minimum standards based on the principles of the United Nations Universal Declaration of Human Rights, as well as setting out our requirements to meet environmental best practice and work towards mitigating our climate impact.
At present, All Tier 1 suppliers have signed and we are in the process of having all Tier 2 suppliers on boarded by the end of June 2023.
All our suppliers are audited by SMETA, BSCI and SGT audits. Announced and unannounced audits against our Policy may be initiated on behalf of THE UPSIDE in order to ensure accountability and integrity. It is expected that our partners work collaboratively with us to address and mitigate any non-compliances, and failure in the result to do so, will result in us ceasing business. In addition to this, we visit all our partners at least once a year.
You can see the Policy for improved transparency and greater awareness around the topic here.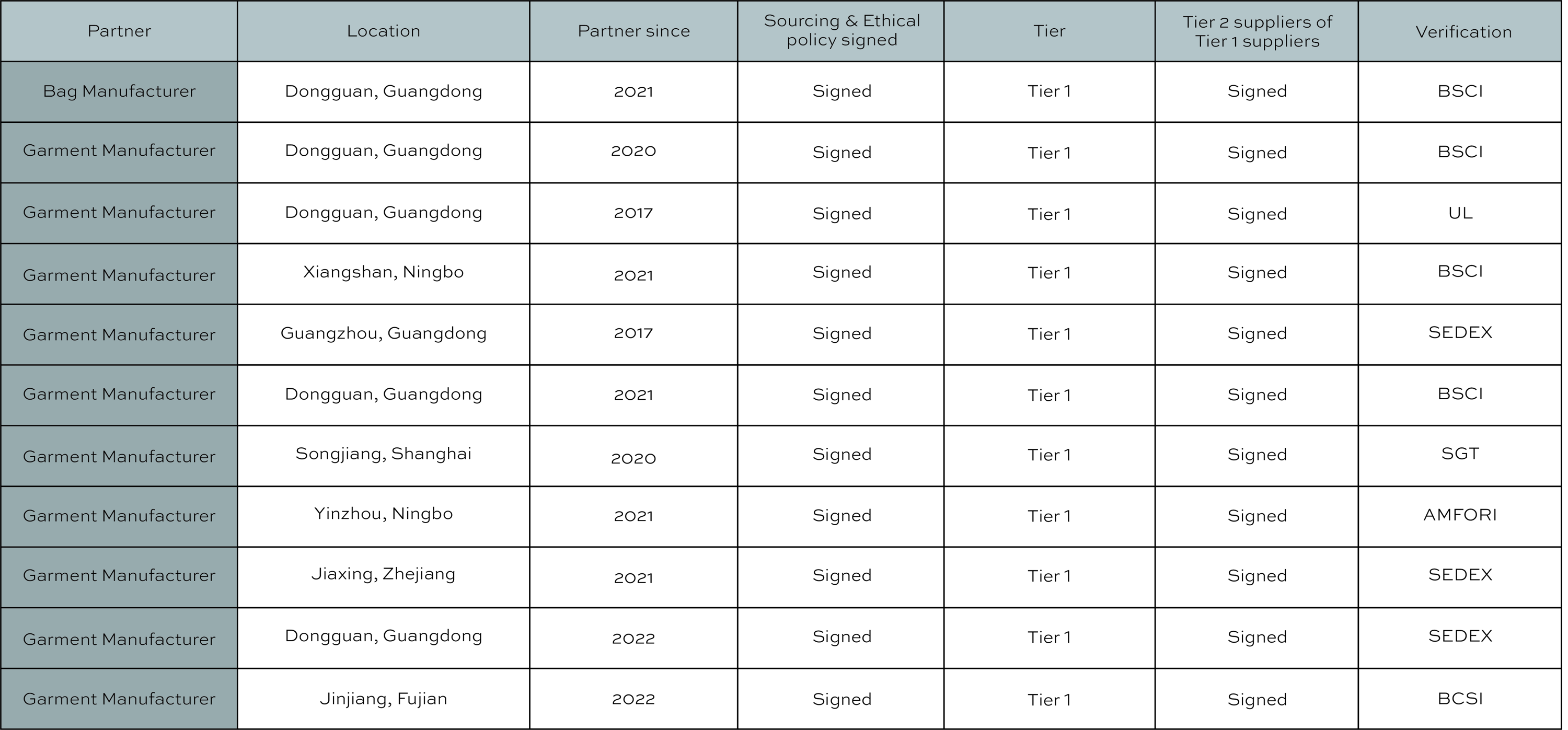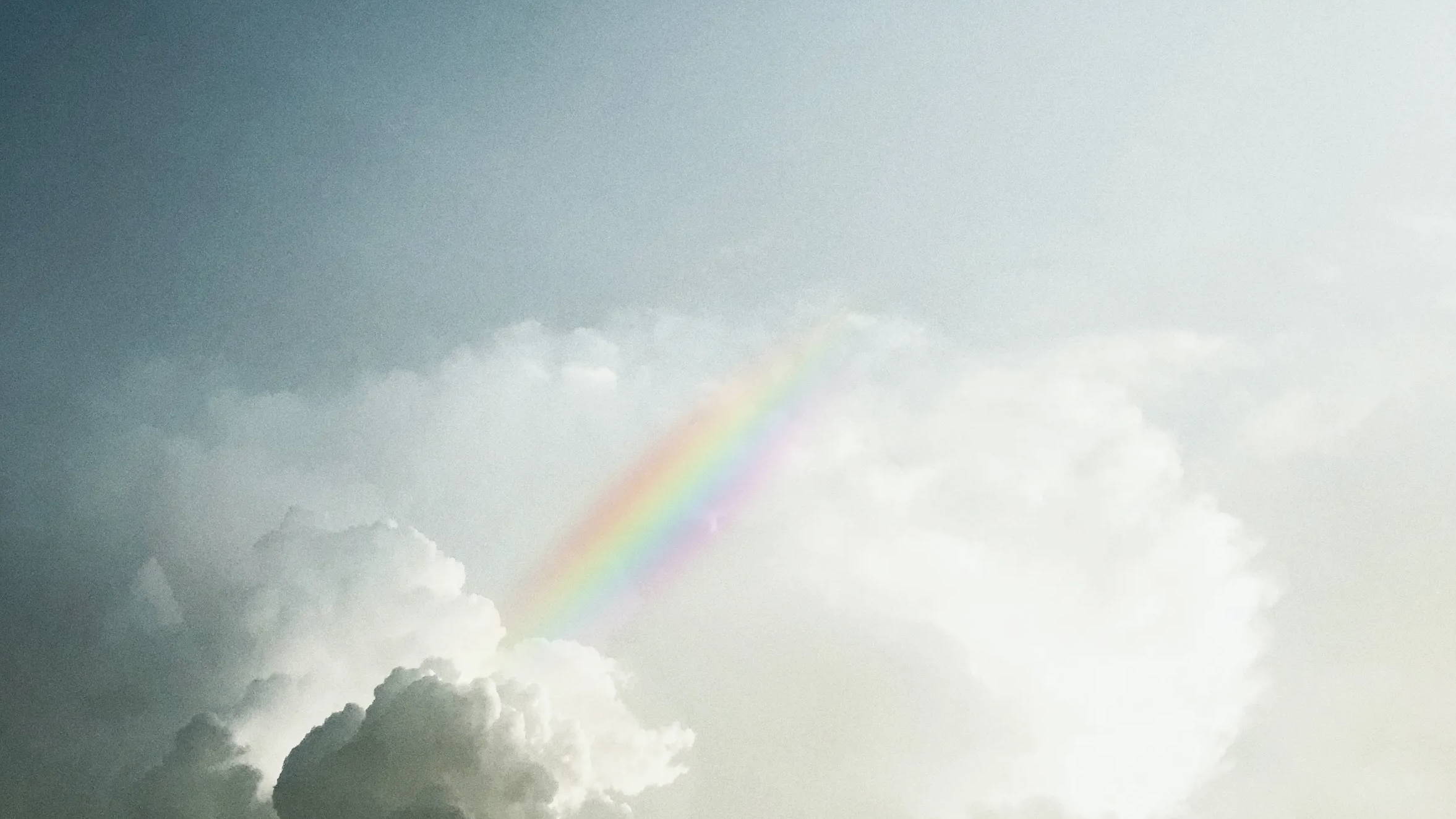 SUPPLIER CODE OF CONDUCT

THE UPSIDE is committed to upholding human rights, fair working conditions and mitigating modern slavery. As a condition of working with THE UPSIDE, our suppliers are required to adhere to our supplier code of conduct which stipulates fair working conditions to make sure the appropriate actions are taken to protect workers.
Labour Rights
• Employment is freely chosen and there is no forced or bonded labour.
• Workers are not required to lodge deposits or their identity papers with their employer and are free to leave their employer after reasonable notice.
• Workers, without distinction, have the right to join or form trade unions of their own choosing and to bargain collectively.
• The employer adopts an open attitude towards the activities of trade unions or workers representative committees and their organizational activities.
• Workers representatives are not discriminated against and have access to carry out their representative functions in the workplace.
• Where the right to freedom of association and collective bargaining is restricted under law, the employer facilitates, and does not hinder, the development of parallel means for independent and free association and bargaining such as worker representative commitees. There should be a formal Policy for raising and handling of grievances including nomination of a specific senior member of management to handle these cases.

Working Conditions
• A safe and hygienic working environment shall be provided, bearing in mind the prevailing knowledge of the industry and of any specific hazards, including hazardous chemicals. Adequate steps shall be taken to prevent accidents and injury to health in the working environment.
• Workers shall receive regular and recorded health and safety training and such training shall be repeated for new or reassigned workers.
• Access to clean toilet facilities and to clean and drinkable water and where appropriate, sanitary facilities for food storage shall be provided.
• Accommodation, where provided, shall be clean, safe, and meet the basic needs of the workers.
• Suppliers will ensure that personal protective equipment is available, and workers are trained in its use. Safeguards on machinery must meet or exceed local laws.
• Suppliers shall assign responsibility for health and safety to a senior management representative who has appropriate certification.

Child Labour
• THE UPSIDE supports ILO Convention 138 in regards to the appropriate age of workers (NB: China's minimum employment age is 16 years) and will not work with suppliers who use child labour)
• There shall be no new recruitment of child labour.
• Suppliers shall develop or participate in and contribute to policies and programs that provide for the transition of any child performing child labour to enable them to attend and remain in quality education until no longer a child.

Living Wages
• Wages and benefits paid for a standard working week must meet, at a minimum, national or local legal standards or industry benchmark standards, whichever is higher. In any event wages should always be enough to meet basic needs and to provide some discretionary income building to a fair wage and ultimately a Living Wage
• All workers shall be provided with written and understandable information about their employment conditions in respect to wages before they enter employment and about the particulars of their wages for the pay period concerned each time that they are paid
• Deductions from wages as a disciplinary measure or any deductions from wages not provided for by Law shall not occur without the expressed permission of the worker concerned. All disciplinary measures should be recorded

Working Hours
• Working hours comply with any Law and benchmark industry standards, whichever affords greater protection.
• In any event, workers shall not on a regular basis be required to work in excess of 48 hours per week and shall be provided with at least one day off for every 7 day period on average. Overtime shall be voluntary, shall not be excessive, shall not be demanded on a regular basis and shall always be compensated at a premium rate.
• Overtime shall be voluntary, and shall not exceed twelve hour per week, and shall not be required regularly.

Discrimination
There is no discrimination in hiring, compensation, access to training, promotion, termination or retirement based on race, caste, national origin, religion, age, disability, gender, marital status, sexual orientation, union membership or political affiliation.

Regular Employment
To every extent possible work performed must be on the basis of recognized employment relationship established through national law and practice.
Obligations to employees under labour or social security laws and regulations arising from the regular employment relationship shall not be avoided through the use of labour- only contracting, sub-contracting, or home-working arrangements, or through apprenticeship schemes where there is no real intent to impart skills or provide regular employment, nor shall any such obligations be avoided through the excessive use of fixed-term contracts of employment.
Physical abuse or discipline, the threat of physical abuse, sexual or other harassment and verbal abuse or other forms of intimidation shall be prohibited.

Sub-Contracting and Home Working

There shall be no subcontracting unless previously agreed with THE UPSIDE
Suppliers must have adequate processes in place for properly managing sub-contracting or home workers to ensure subcontractors do not abuse, exploit, or provide unsafe working conditions for their employees
Direct suppliers are required to continuously monitor approved subcontractors and sub-suppliers for social and environmental responsibility using standards that meet or exceed our Policy. We expect our suppliers to support the ethical standards set out in this Policy. In order to ensure accountability all partners must supply certifications to social standards and/or annual audit reports. Our preferred standards, and audit reports include the following:
WRAP, SA8000, SEDEX SMETA P2&P4, BCSI
If non-compliances are detected, our expectation is that they will be closed within a three-month period, upon completion of a final audit. If for any reason, non-compliances are unable to be closed off, we will work together to find a solution, and expect that an effective remediation plan is put in place. If any partners are unwilling to follow this process, The UPSIDE has the right to cease business.

Bribery and Corruption

Suppliers shall not engage in acts of bribery and corruption and shall not falsify documents and records. We define corruption as "the misuse of a person's position of power to influence an outcome within their control." Bribes can include (but are not limited to) money, employment, discounts, gifts, or payment of expenses, including travel and entertainment.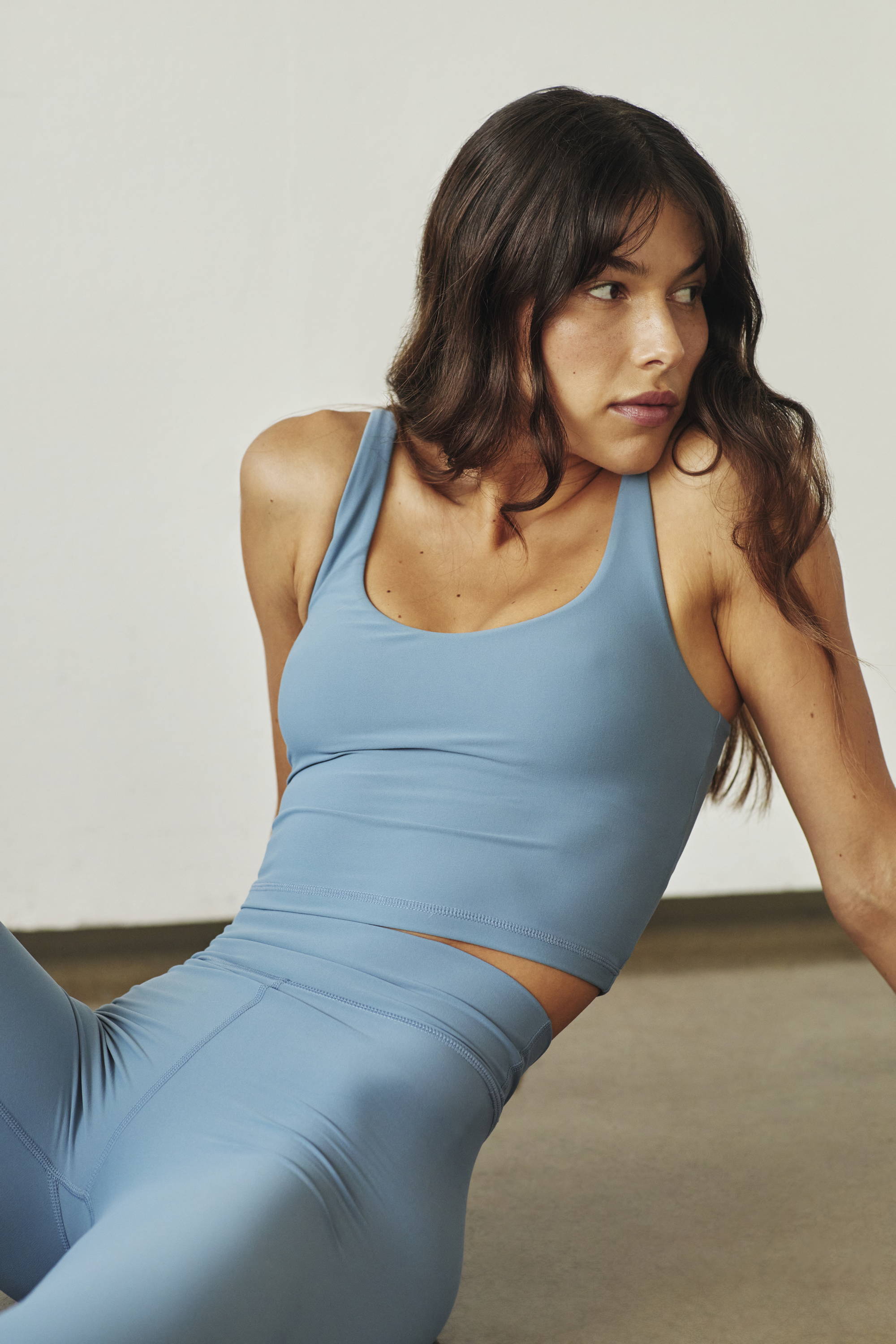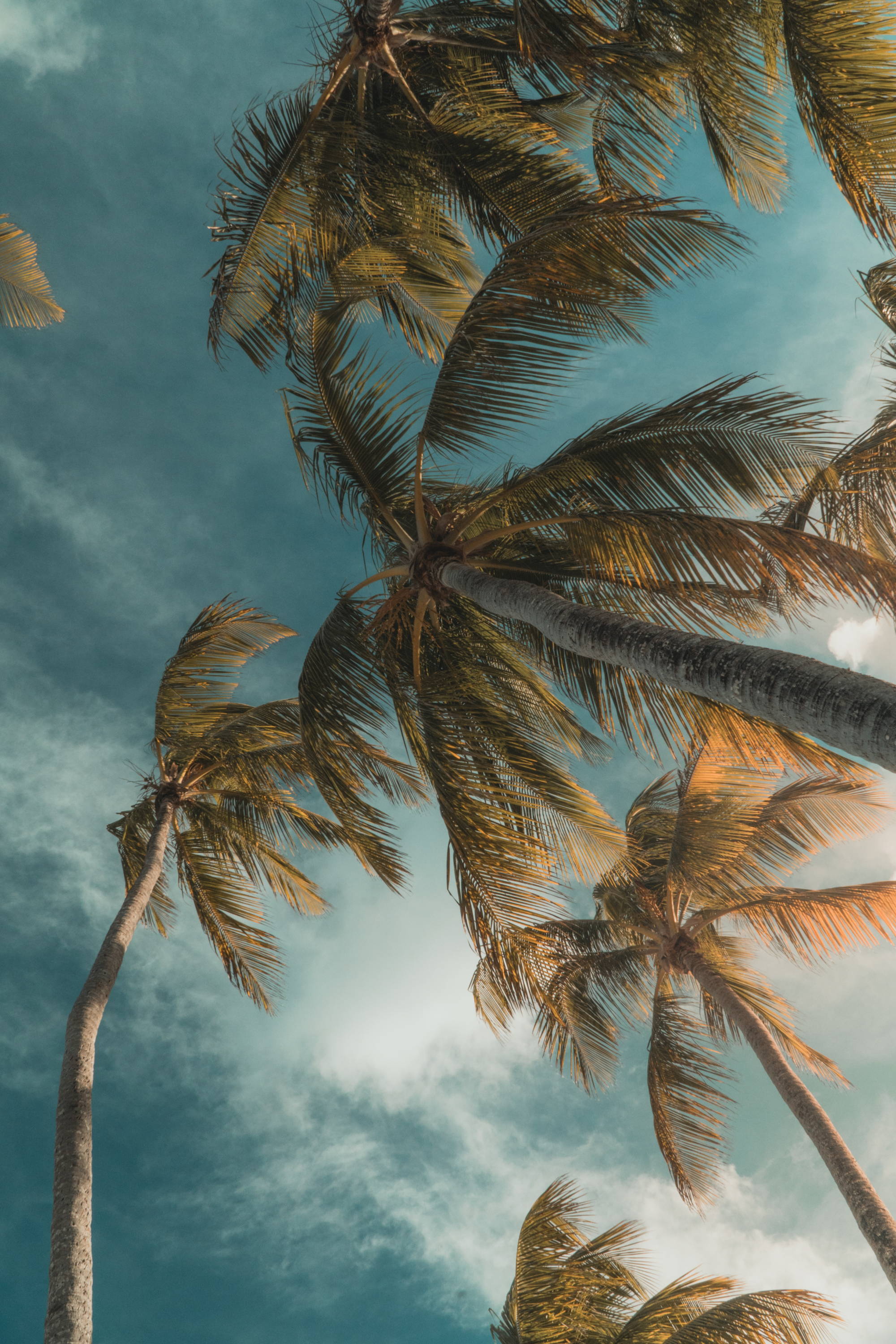 PACKAGING

POLYBAGS
All of THE UPSIDE packaging is recycled and/or biodegradable, including our polybags which each of our garments are packed in during shipping.
MAILERS
When shopping with us online you will receive your order in our mindful bubble mailer, which is completely compostable and green bin friendly. Made with bio-based materials, and without toxic inks, it will not leave any microplastics behind.
Our purchases in-store and online receive a 100% recycled cotton tote bag, which means you can continue to use your bag following your purchase.
Any boxes we use for our wholesaler orders is made from 100% recycled cardboard and we are in the process of phasing out our printed tissue paper in favour of embossed and plastic stickers for compostable paper ones.
JOINING THE CIRCULAR ECONOMY

At THE UPSIDE our products are created with quality and longevity in mind using mostly preferred fibres so that they can become much loved favourites, and be worn over and over again.
From time to time there are products which need a second life, that's why we've joined the Circular Fashion movement with AirRobe.
AirRobe's focus is on creating new ways to extend the life of fashion by returning fashion pieces into the circular economy through re-selling or renting so that collectively we keep as many pieces out of landfill as possible.

By selling or wearing just one pre-loved fashion piece customers can offset:

• 9 kg of C02 emissions
• 95 litres of water
• 2 kg of textile waste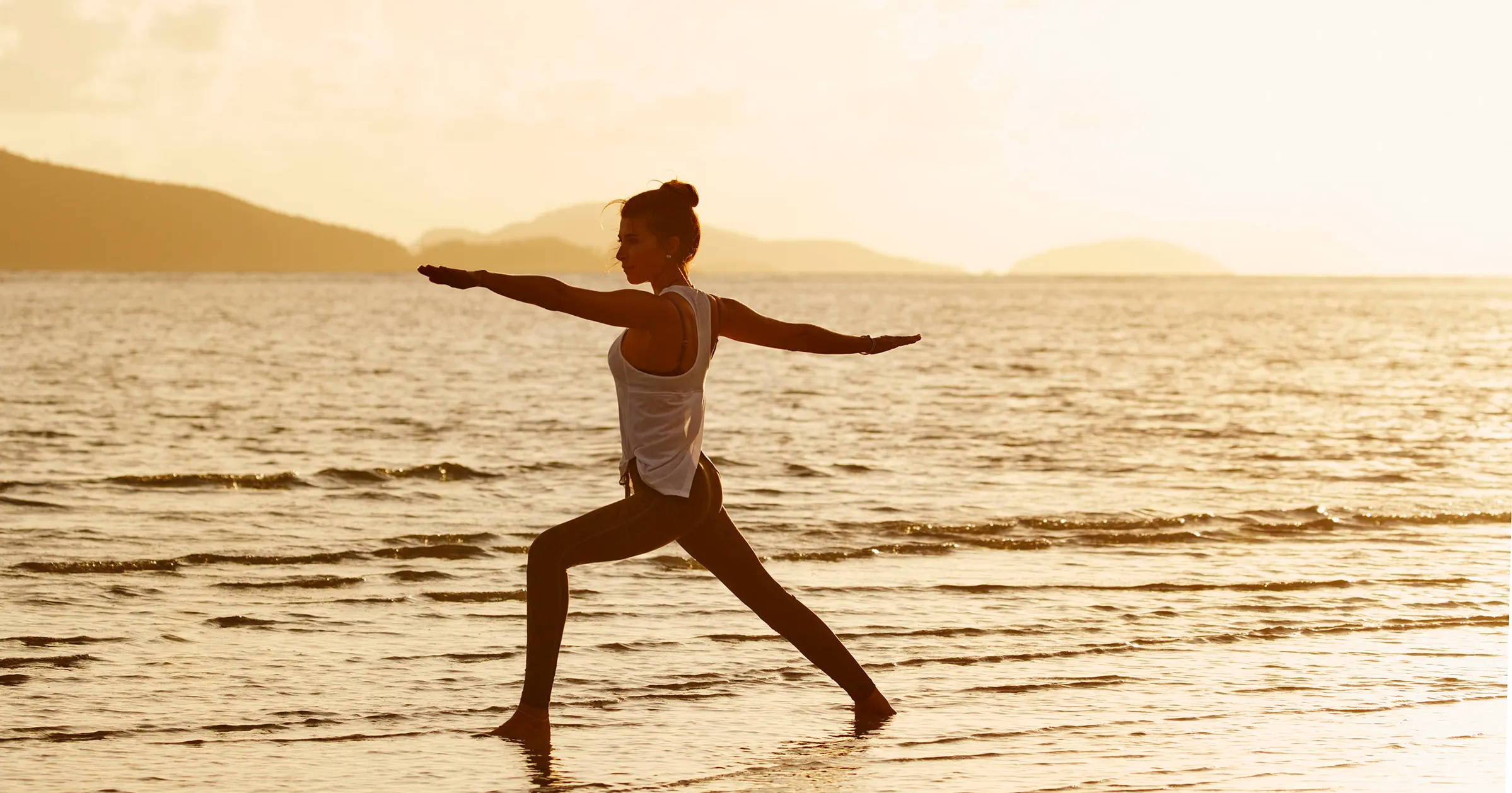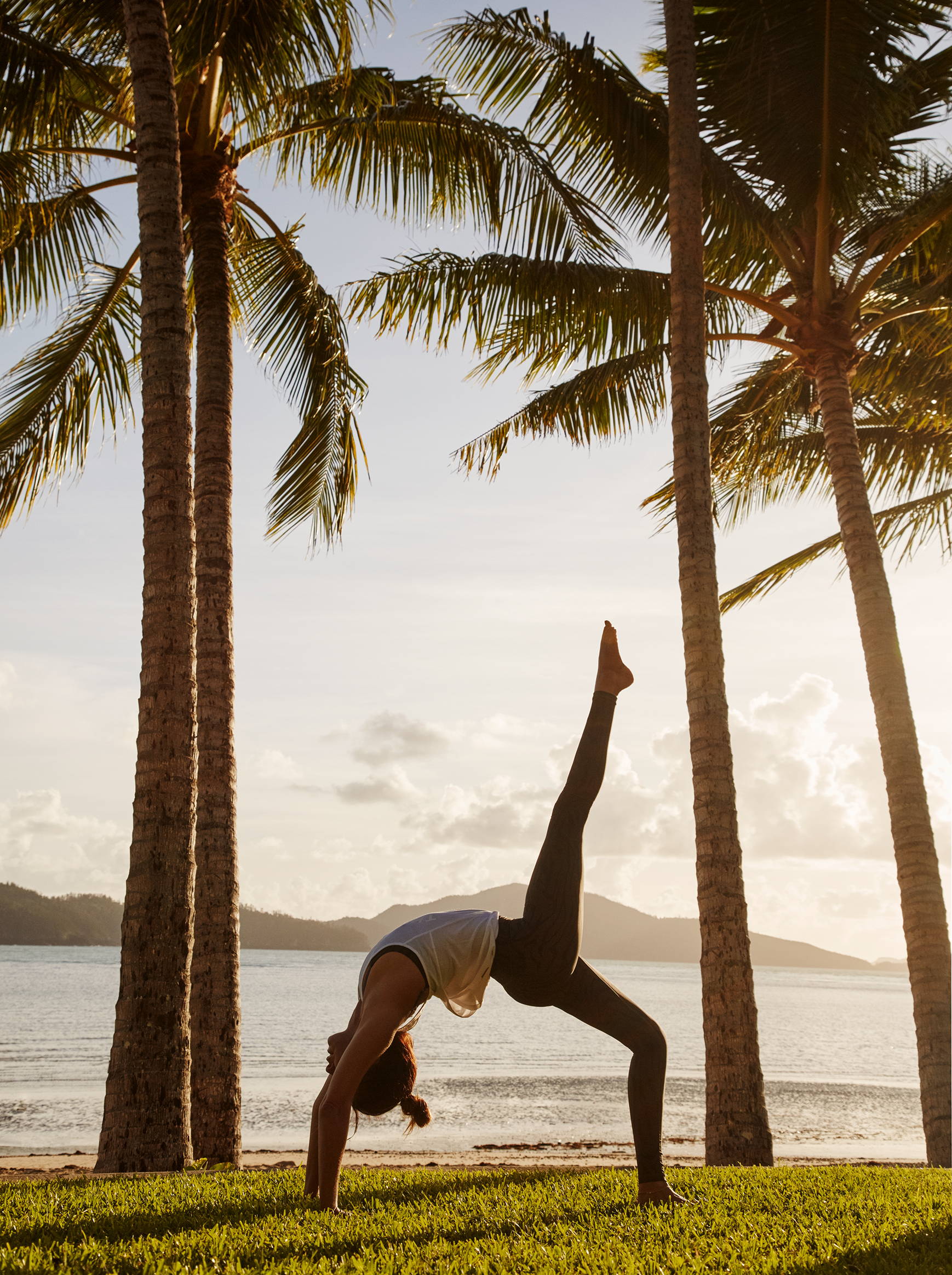 OUR ONGOING COMMITMENT TO YOU

From the beginning, we have understood how we move through the world matters. Whether that impact is personal, social or environmental - we are accountable for what we put out into the universe. We are continually striving to ensure our actions are as honourable as our intentions. With that being said, we do not and cannot claim to be perfect - we are very much a work in progress and there is always room for improvement. While we still have more work to do, we remain open and committed to learning how we can get where we need to be, not only for the sake of this beautiful planet but also for the health and happiness of our global community.
We look forward to keeping you updated on our progress, as well as all the new initiatives we have in the pipeline.