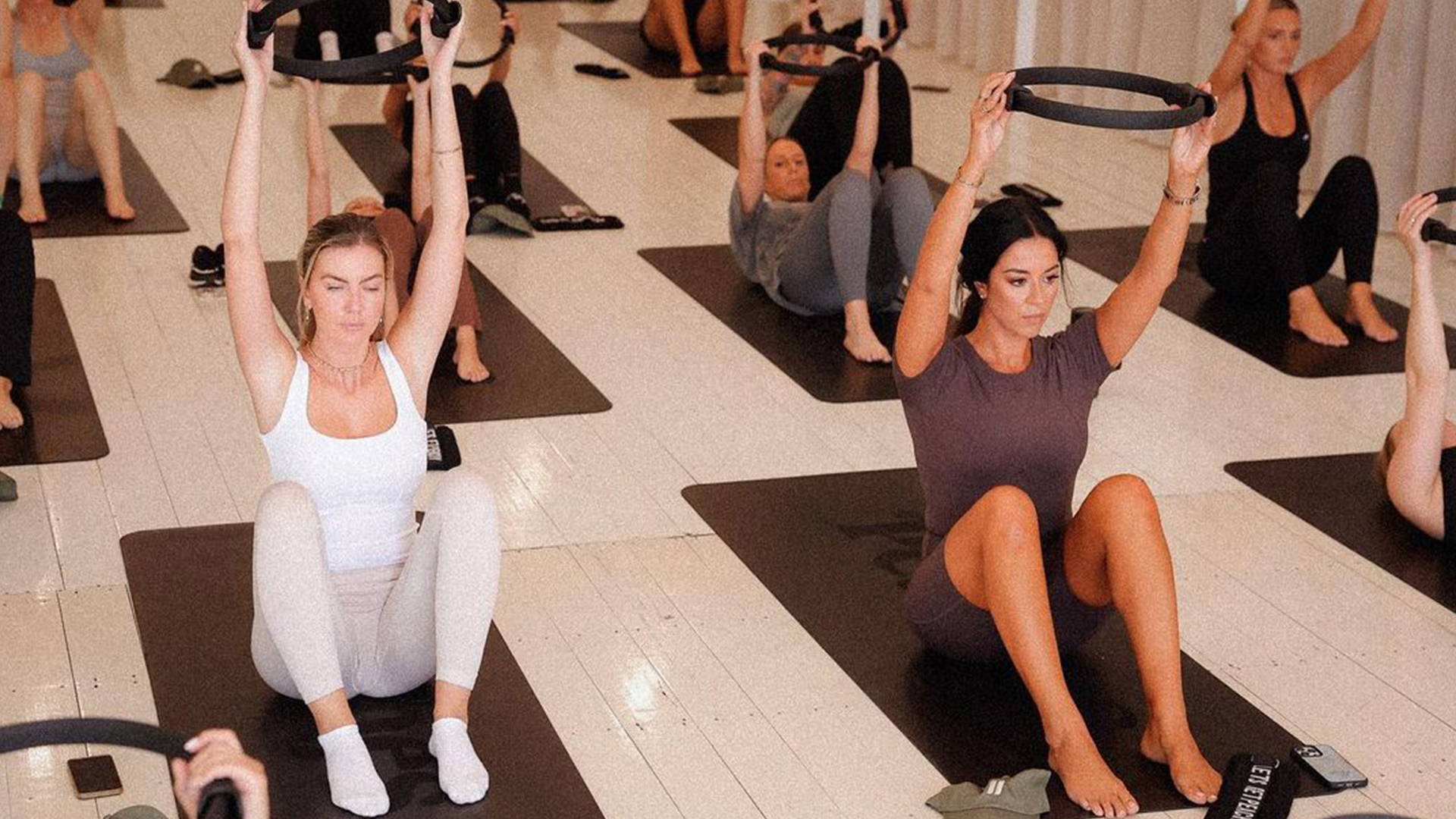 Peaches pilates: secret to succes

Peaches philosophy 'MPFFA - Make People Feel F**king Awesome', clearly highlights the brands passion to cultivate an experience for all who enter their beautifully curated studios or thriving online community.
We spoke to Peaches founder Tori Clapham and her business partner/husband Chris Hole to understand what makes their studios so popular and why they've chosen to expand their business interstate, with new openings in Victoria and Queensaland and more to come.

Q - HOW MANY STUDIOS DO YOU HAVE NOW?
Chris - We are up to 6 studios now with a couple more coming very soon. Our studios are all actually quite different - we probably lack a little bit of brand consistency there but we love how they reflect their location and the people around them.
Fitzroy is above a Chinese restaurant and tattoo parlour in a converted apartment with exposed brick and big wooden beams while Byron is light and white and airy, nestled amongst palm trees next to our favourite spot in town - Roadhouse.
Each studio has its own vibe and personality but all the things that make Peaches Peaches are there. Maroubra is a tiny little hole in the wall but you can see dolphins in the waves while the sun rises - Windsor is super luxe and Cronulla is on the most pumping corner directly opposite Ham Cafe.
We love being next to a great cafe whenever we can - nothing goes with Pilates better than coffee.
Q - HOW DO YOU ENSURE EACH STUDIO HAS ITS OWN IDENTITY WHILE STILL BEING ON BRAND WITH "PEACHES"?
Tori - Now that we're franchising some of this comes from the studio owner - we give them some licence to put their stamp on the space during fit out as long as it fits within the parameters we set and is brand aligned. We also love to work with the natural aspects of a space - we've left Maroubra really open at the front to take advantage of that view and Fitzroy has amazing ceilings that you just can't cover up.
All our studios need to feel warm and welcoming like you're stepping into somebody's home and we do have a few mandatory elements in the fit out for consistency. But as long as they're there plus the signage, the experience and the vibe then we're happy for them to have their own personalities to a certain extent. We've been told by consultants and bigger franchises that we need to be more consistent but... we don't want to hahaha.



Q - WHAT MADE YOU WANT TO EXPAND TO VICTORIA AND WHAT WAS IT LIKE DOING THIS/YOUR PROCESS?
Chris - We developed a little cult following in Melbourne during the extended lockdowns they endured so we were getting asked about it a lot. Even then to be honest it really wasn't something we planned to do until we heard Barre Body were closing their studios. We've always admired their brand and their spaces are all beautiful so we struck up a conversation and it honestly feels like we never stopped to think - suddenly we were at opening day in Fitzroy and Windsor followed a couple of months later. It made it easy because the basic fit out was there, the spaces were approved by council and we just had to bring our personality and systems to them. We even kept some of their staff and have many of their customers still with us.
It's been challenging though - launching into a new city as a pretty small player is tough. Plus, our 6 studios are all over the place - if I designed our journey from scratch I would definitely have wanted our first 6 spaces to all be in the same city so we could visit them easily. We have a toddler and a newborn at the time of writing so it's almost impossible for us to get to Melbourne and Byron at the moment. We haven't learned our lesson though - the next one isn't in Sydney either!



WHAT ARE SOME OF THE HIGHLIGHTS OF OWNING YOUR OWN BUSINESS?
Chris - Oh god I honestly think most business owners would pause on this question because it's bloody hard! But working for yourself is so rewarding. You get to decide how everyday looks, our studios are open 7 days a week so we're never really off but you have the flexibility to design your life. I was recently processing our weekly payroll on a bullet train in Japan and I had a little 'isn't this awesome' moment.
I used to work in the corporate world in marketing and I always felt an element of pointlessness to it - does it really matter if we convince people to fly with this airline instead of the other one? Now that Tors and I own a business in the fitness/wellness space together we genuinely get the opportunity to improve people's lives. I often wander down to our little Maroubra studio and grab a coffee and watch the smiling, happy, sweaty faces coming out the door at the end of class.
Our business mission statement is to MPFFA - Make People Feel F**king Awesome. We want that to include us, our franchisees, our staff and any partnering businesses - not just our customers.



WHAT ARE SOME CHALLENGES YOU'VE FACED AND HOW DO YOU APPROACH THEM?
Chris - Let's ignore pandemics, recessions and interest rates in this one because they affect everyone but my god there are constant, never ending challenges from big to small. I think the hardest part of business - especially in one like ours - is you are always, always relying on other people.
We rely on software providers so we can take bookings or stream workouts on our app, we rely on staff turning up to their shifts and delivering killer workouts, there's actually an insane number of people that need to do their jobs when you look across all the partners and agencies we work with. And a lot of that is largely out of your control.
Tori: Totally agree - when I just had one studio - it was pretty much all me - but I can't be in 6 places at once and I initially found it really hard to step away. The only answer to this is hiring great people. We have an amazing team.



WHAT'S SOMETHING YOU NEVER THOUGHT YOU WOULD ENCOUNTER WHEN YOU STARTED YOUR BUSINESS?
Tori - I never thought my husband would be working on it with me. Chris was the bread-winner in our family and I honestly never thought my little studio would grow into something that could support our entire family. I also never realised how much of an impact you can have on somebody's life.
Peaches really means a lot to some of our clients - many of them have moved to a new city and Peaches has been the place where they found their people, the community is so strong it still surprises me today. We have made so many amazing new friends through this business.


ANY PLANS FOR THE FUTURE?
Chris: Get some sleep? Haha we honestly don't have it all mapped out - we're happy taking it slow and jumping on opportunities as they come up. We're in a big "improve everything" phase at the moment.
Growth will hopefully come more easily once we've fixed a few big pieces


FIND PEACHES
INSTAGRAM