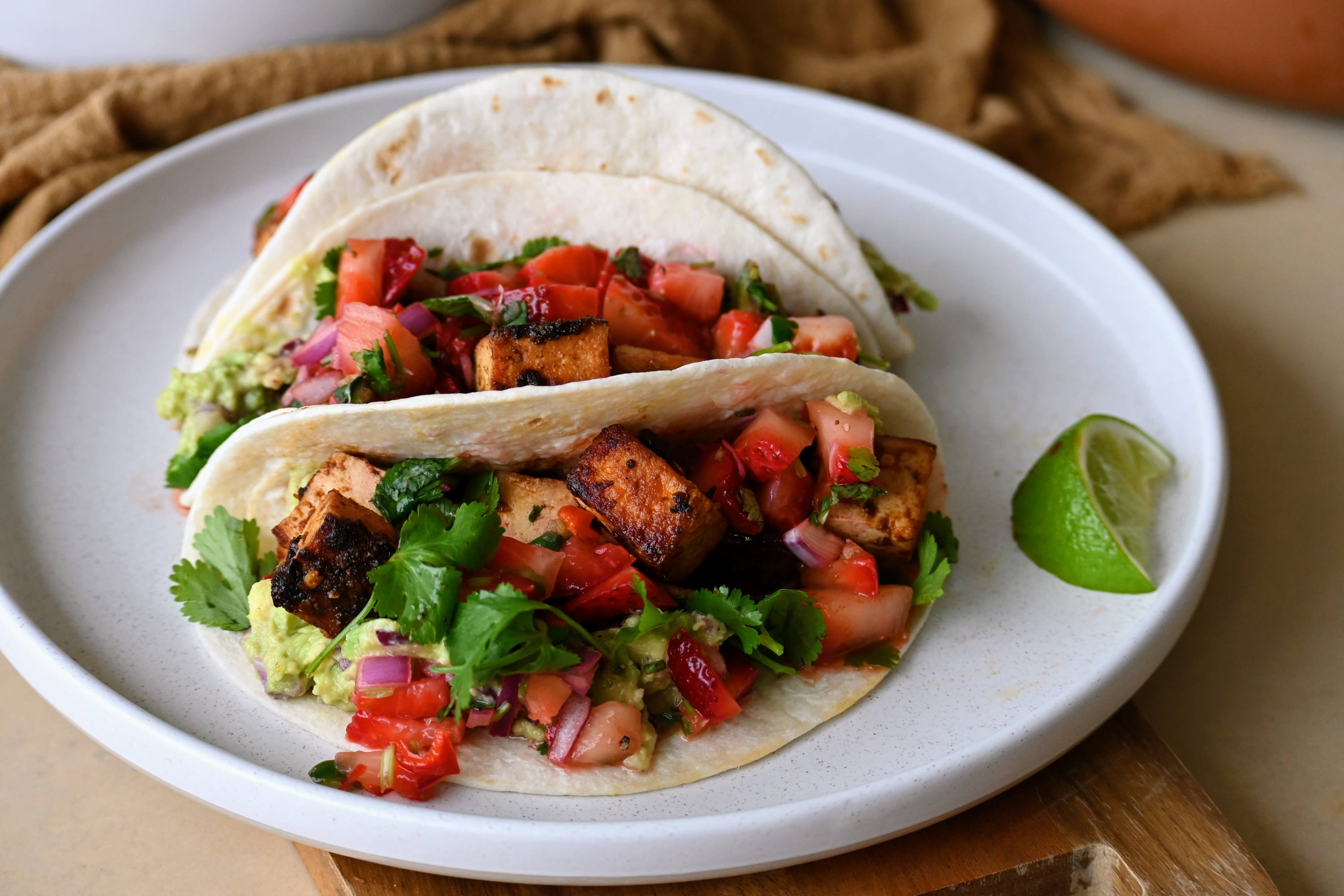 Switch up your week night soirée with these tantalising Vegan Tofu and Strawberry Salsa Tacos


Indulge in a burst of bold and unique flavours with these harissa tofu tacos featuring a strawberry salsa and quick guacamole. This recipe takes the traditional taco to a whole new level by combining the heat of harissa-marinated tofu with the sweetness of homemade strawberry salsa. And of course, what's a taco without guacamole? I've paired it with a quick and creamy guacamole to compliment the spicy flavours.
Whether you're a taco aficionado or just looking for a different dish, these harissa tofu tacos are sure to satisfy your cravings and keep it interesting!

INGREDIENTS

For Strawberry Salsa
· 450g strawberries, diced
· ½ red onion, finely chopped
· 1 tablespoon maple syrup
· 2 limes, juiced
· 1 small jalapeño, seeded and finely chopped
· ½ bunch fresh coriander, chopped
· Salt and pepper to taste

For Marinated Tofu
· (400g) firm tofu, pressed and cubed
· 2 tablespoons harissa paste or powder (can sub for a mix of chilli flakes and cumin)
· 1 teaspoon paprika
· 2 cloves garlic, minced
· Salt and pepper to taste

For Quick Guacamole
· 2 ripe avocados, peeled and pitted
· ½ red onion, finely chopped
· 2 limes, juiced
· Salt and pepper to taste

For Assembling
· 8 small taco-sized tortillas (corn or flour, based on preference)


METHOD

1. Strawberry Salsa:
In a mixing bowl, combine the diced strawberries, finely chopped red onion, lime juice, and maple syrup.
Add the chopped jalapeño for a bit of heat; adjust the amount based on your preference.
Gently fold in the chopped fresh coriander.
Season the salsa with salt and pepper to taste.
Allow the flavours to meld by refrigerating the salsa for at least 30 minutes before serving.


2. Marinated Tofu:
In a bowl, mix together the harissa paste, paprika, minced garlic, salt, and pepper.
Add the cubed tofu to the marinade with a generous drizzle of extra virgin olive oil and gently toss to coat all the pieces.
Allow the tofu to marinate for at least 15-20 minutes, or longer for more flavour.
Heat a non-stick pan over medium heat and add a bit of oil
Cook the marinated tofu until it's browned and slightly crispy on the edges, about 3-4 minutes per side. Set aside.

3. Quick Guacamole:

In a bowl, mash the ripe avocados with a fork until you reach your desired level of chunkiness.
Add in the finely chopped red onion and fresh lemon juice. Mix well.
Seasonthe guacamole with salt and pepper to taste. Adjust lemon juice if needed.

4. Assembling:
Warm the taco-sized tortillas according to the package instructions.
Lay out the warm tortillas and place a generous spoonful of marinated tofu on each one.
Top the tofu with a spoonful of strawberry salsa.
Finish by adding a dollop of quick guacamole on top.
Optionally, garnish with additional chopped coriander and a squeeze of lime juice.


5. Serving:
Serve the vegan tofu tacos with strawberry salsa and quick guacamole and enjoy the explosion of flavours in every bite!
These tacos are perfect for sharing with friends and family or for a delightful solo meal.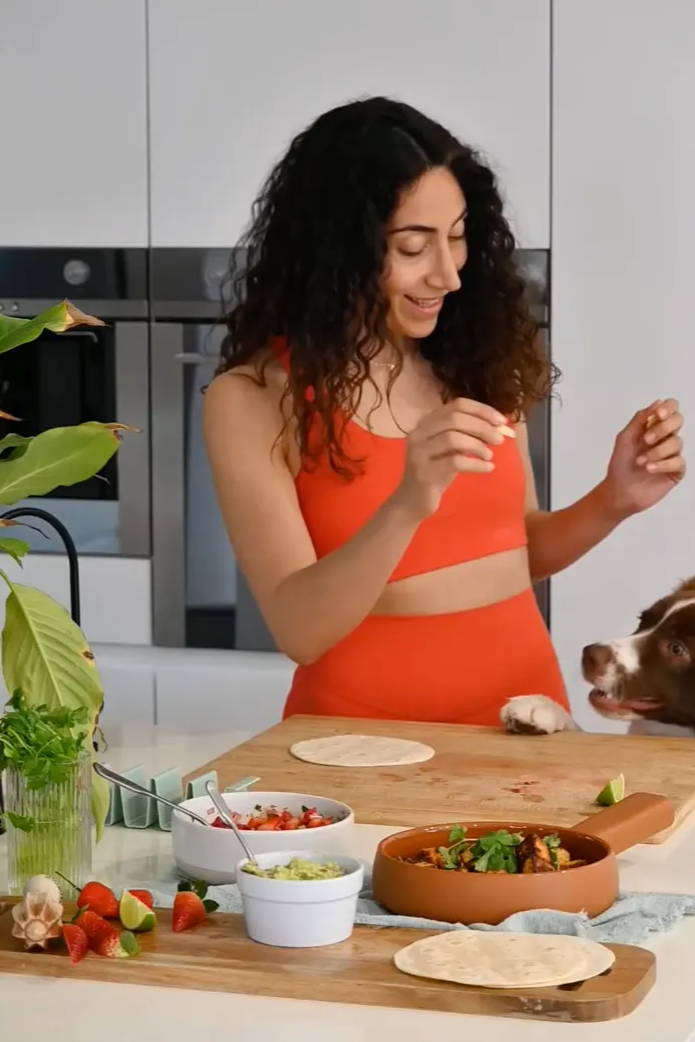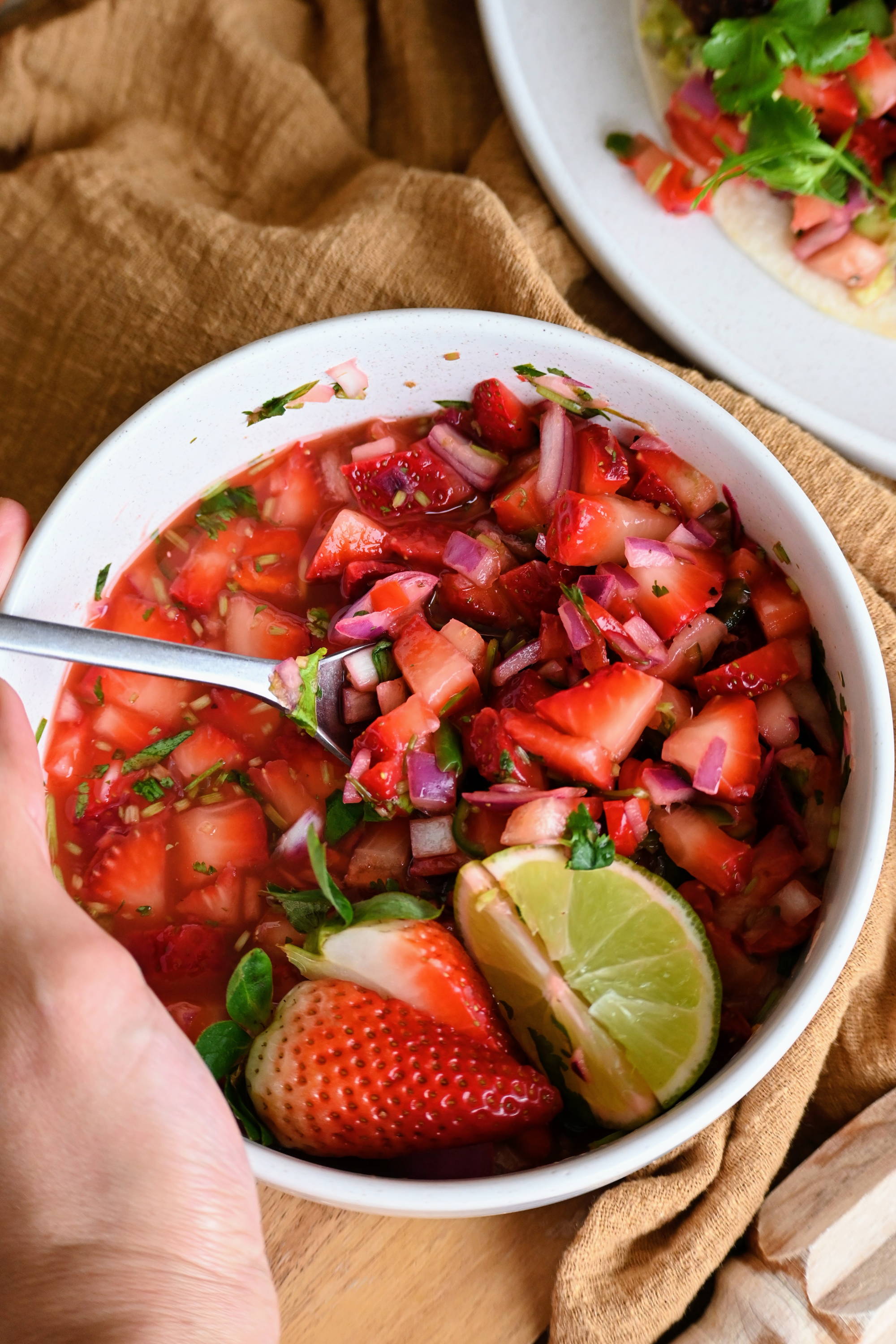 INSTAGRAM